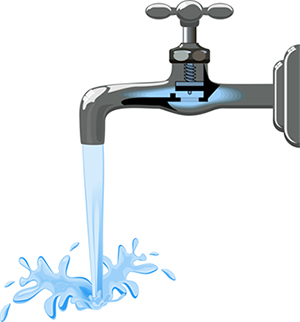 Is your water bill high and you can't figure out why? Slab leaks are a common occurrence in Florida and can be tough to detect. A slab leak occurs under your concrete slab, or home foundation.
Homes in Brevard County have water lines buried below the home's foundation and most Florida homes have copper water lines. While copper lines are high in quality, over time they can begin to leak and it's important to know that usually slab leaks are heard before they are seen.
Slab leaks have a few different symptoms that can be confused with other Melbourne, Florida plumbing problems. If you think you have a slab leak, go over the most common symptoms listed below and call a plumber if you are experiencing any of the following:
High water bill. Sometimes the first sign of a slab leak is a high water bill. If your monthly water usage goes drastically up you may have a leak somewhere. First consider any changes to your household like washing more laundry, more people in the house using the bathroom and taking showers, filling your pool up with water, etc. then check your toilets, faucets  for any leaks that can be the cause of the high water bill. If nothing has changed or is leaking and your water usage has gone up considerably, you may have a slab leak.
Hot spots on your floor or carpet.  If you have sudden hot or wet spots on your floor, the pipe under the concrete may be leaking. Hot water slab leaks sometimes show up as warm spots on flooring.
Hear water running. If you can hear water running in your house when no water is being used, you may have a slab leak.  If this is the case you will want to check your water meter for movement. If no water is running in the house and your meter still shows movement, that means there is a leak somewhere and there is a good possibility that it is under the slab. You can see if the leak is in the house or outside by shutting off the main valve at the house to stop any water flowing inside. If the meter is still moving when the house main is off, the leak could be located between the city meter and the house.
Slab leaks come in many different forms and can be very expensive. As soon as you suspect a leak, call your plumber. Make sure they are equipped with specialized leak detection equipment and are thoroughly trained in detection and repair. The quicker the leak is found and fixed, the less amount of damage will be caused. Call the experts at Sun Plumbing if you have any plumbing or slab leaks, and someone will be dispatched to your home immediately.