When it comes to plumbing issues in your home, they don't get worse than sewer issues!  Sure, a clogged drain can get stinky.  An overflowing toilet is a gross mess.  But, nothing beats a backed-up sewer system!
What if You Don't Know Where the Stench Is Coming From?
You have detected an unwelcome stench in your home, but you don't know where it is coming from.  What do you do?  It is time to call Sun Plumbing.  One of our highly-trained plumbers will come to your home and conduct a smoke test.
Our plumber will blow air and smoke into your sewer system.  Because smoke likes to find the path of least resistance it will escape through even the tiniest crack.  When it does this, we have located the problem!  Now our plumber can get to work fixing the problem so that you can go back to an odor-free home.
Common Signs of Sewer Line Problems
You may have had some other warning signs without realizing that they were related to a sewer plumbing problem.  Gurgling toilets, an unusual amount of pests in your home, and drains that are slow are all signs of possible sewer plumbing issues.  A much more obvious sign is sewage backing up into your tubs, showers, or toilets. If this has happened to you, you won't soon forget it.  As the children's book says, "Everybody Poops," but that doesn't mean you want to have it coming up through your shower drain!
There are a variety of issues that could be causing the sewer smell in your home.  After conducting the smoke test, our plumber should have a good idea of the problem and present you with the necessary repair.  It could be a cracked, broken, or collapsed sewer pipe causing the problem.
How Can Sun Plumbing Fix the Sewer Line Problems?
The fix is dependent upon the problem.  Rest assured, Sun Plumbing has dealt with a myriad of sewer repairs and replacements during our 45+ years of plumbing service.  It may not be the most fun part of our job, but we will do a stellar job for you.  If it is a minor crack, the pipe may simply require a repair.  Other sewer line problems may be larger and require a pipe replacement which is a substantially larger plumbing job.  However, this is not a repair that you can put off until a later time.
Cracked or broken pipes of any kind can cause major issues if not repaired or replaced.  Your yard can become saturated with raw sewage.  It can seep into your home, depending on where the break is causing harmful mold.  And, don't forget the smell!  The good news is that sewer pipe repairs or replacements can last 50-100 years!
Can You Avoid Sewer Pipe Issues?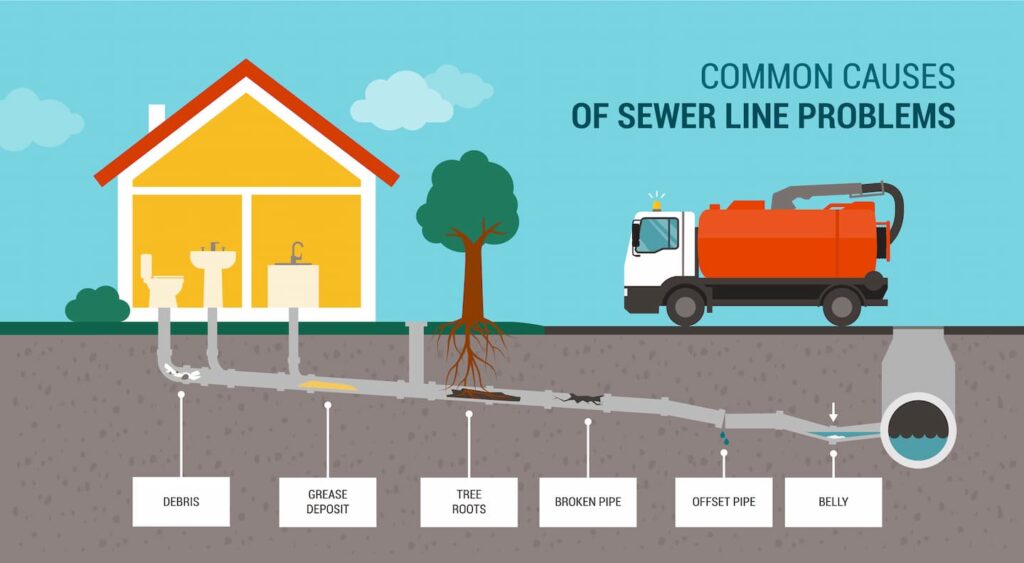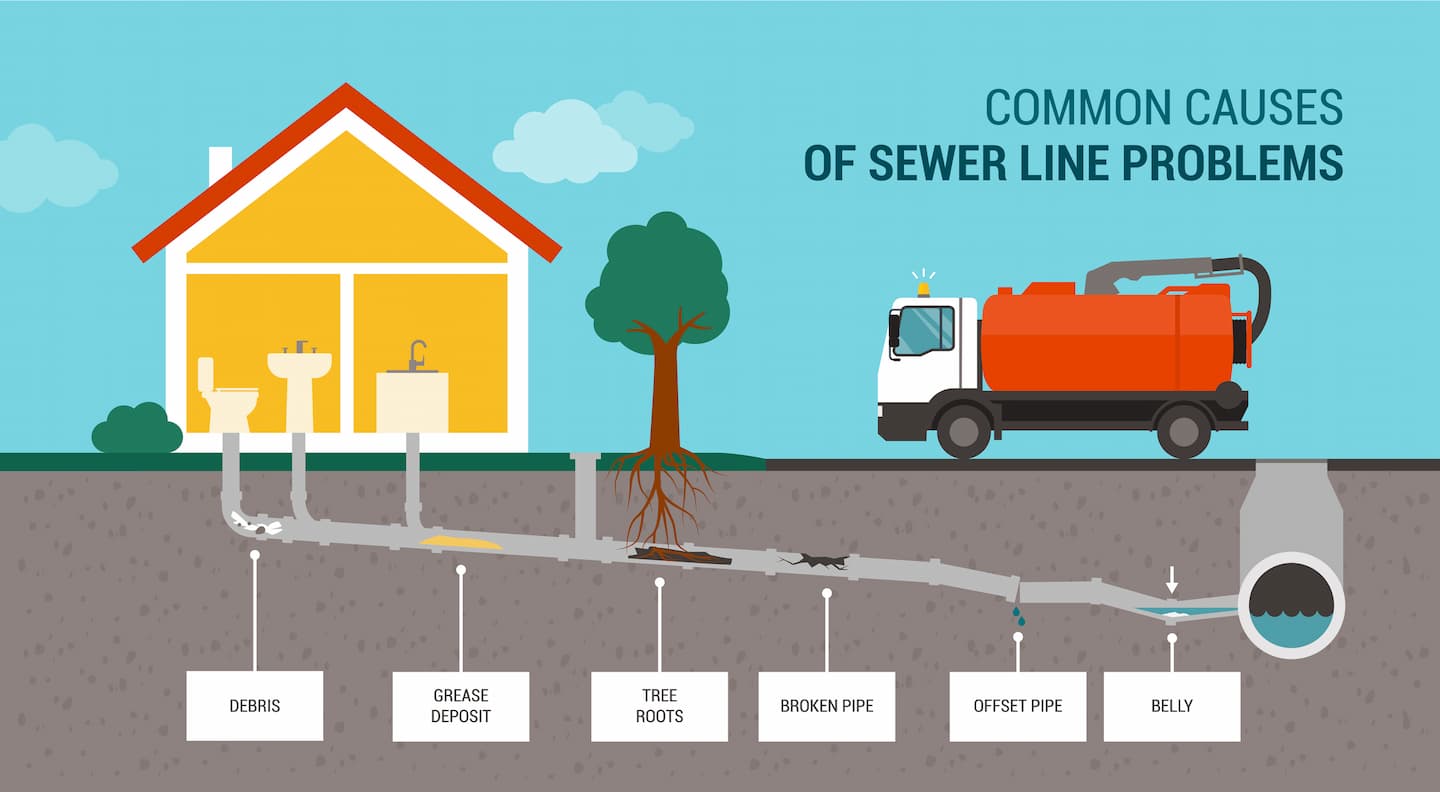 While you can't guarantee the avoidance of any home repair, you can always do things to help prevent them.  When it comes to sewer lines, you want to be certain that there are no tree roots impinging on their space.  Roots are drawn to water.  If there is even a slight crack in a pipe, tree roots will be drawn to it and can wrap themselves around a pipe eventually causing a more severe break.  So, if you really want to plant an oak tree, you would be wise to find out where your sewer pipes are first!
If you own an older home and are concerned about the health of your sewer pipes, we will be happy to run a smoke test to locate any small cracks that will cause problems.  It's better to catch a sewer pipe issue when it is small.  It will cost you less money and the repair will take less time.
Stinky House? Call Sun Plumbing!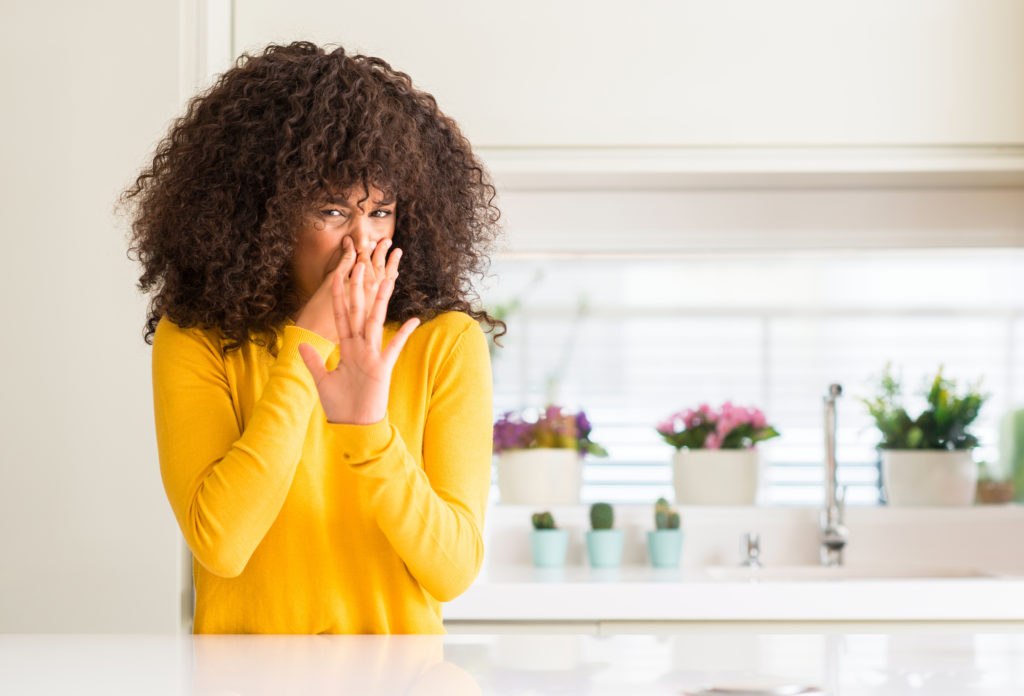 As Marcellus said in Shakespeare's "Hamlet," "Something is rotten in the state of Denmark."  Okay, they were talking about government corruption.  But, if something smells rotten in your house, then give us a call!  From a small repair to a sewer pipe overhaul, Sun Plumbing's expert plumbers are able to handle your needs.  In a timely fashion with professionalism and expertise, our plumbers will have everything "smelling rosy" again in no time!