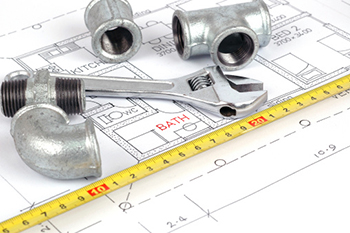 Parties and family gatherings can be the best part of the holiday season. It can also wreak havoc on your plumbing system. Historically, this time of year is the busiest for plumbing companies and many of these problems become emergency situations.
Having large numbers of people in a house can cause backed up drains especially in the kitchen and bathroom. There are a few things you can do to avoid having to make an emergency, and sometimes a costly call to your Melbourne, Fl plumber.
Be careful about what you put down your drains. Kitchen sink stoppages are one of the most common problems during this time of year.  Sinks with garbage disposals are great but you still need to be careful about what goes down the drain. Most types of skins (potato, chicken, banana peels, and shrimp shells) or anything with a bone in it does not grind up well.
They can clog your drain and get wrapped around the disposal's blade causing the motor to cease. Rice is another food item that should not be put down the drain as it can expand and cause clogs. Never pour grease or oil down your drains, over time it will cause a backup.
To avoid having unwanted items put down the drain, try having the garbage can easily accessible when cleaning up the plates of food. Guests will be more likely to properly dispose of garbage if the garbage can is readily available. It is also recommended to run hot water for a few minutes after cleaning up the kitchen to help wash out any food particles and/or grease that may have mistakenly gotten in the drain.
Make sure you have trash receptacles in each bathroom. As with the kitchen, guests are more likely to properly dispose of trash if a can is visible and not overflowing. Toilet paper is the only paper product that should be flushed in a toilet. It is always best to buy a biodegradable type of toilet paper to avoid backups.It is not recommended that any feminine products or wipes be flushed.
Even if the product states "flushable", it can clog your toilet. By law, Florida has low flow toilets. This means toilets are built to only use 1.6 gallons of water per flush. That is not enough water to continually push down wipes, feminine products, toilet paper and waste.
The above are all good recommendations but if you notice your drains are starting to slow down, have them checked before your guests arrive. The first sign of a stoppage is your house starting to drain slowly or gurgle. This can happen days before you have a full blown backup. Once this starts to happen, it's best to take care of the problem before it gets worse.
You may also want to check your records for the last time your septic tank was pumped out. Brevard County suggests you have your tank or tanks pumped out every 3 to 5 years.
By taking a few of proactive measures from Sun Plumbing, you can be sure to have a nice holiday party without the inconvenience and cost of hiring a plumber.