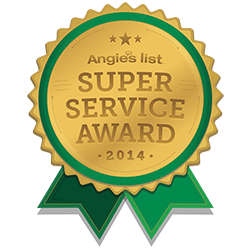 Sun Plumbing is the proud recipient of the 2014 Angie's List Super Service Award. For the second year in a row, we have been congratulated on our superior service and customer relations and we are immensely humbled and grateful for such a distinguished honor.
Thank you to all of our valued customers for your stellar reviews and please know that it is our pleasure to provide you with the best service in Brevard County, FL.
This award marks another winning year for Sun Plumbing. Brevard County residents have spoken again and again and Sun Plumbing has been ranked best plumbing and septic service provider in many areas of the county through Hometown News as well.
The Super Service Award from Angie's List is significant because only 5 percent of the thousands of businesses located on Angie's List qualify. The award is based on overall reviews and ratings for the previous year and we honestly couldn't have done it with out you. Seriously, businesses listed on Angie's List cannot submit their own reviews.
Any feedback provided by customers is rigorously checked by the company to ensure that it is, in fact, truthful and comes from the customer and not the business. So, thanks. Thank you for taking the time to provide your comments to Angie's List. Because of you, our valued customers, Sun Plumbing continues to be at the top!
We love serving Brevard County and are here to assist you with any of your plumbing and septic needs. Our team of experts is highly qualified and you can rest assured that they will take all the time necessary to put you at ease and solve your problems. Every member of the team has passed strenuous background checks so you can rest easy knowing anyone who comes to your home is safe and knowledgeable.
Is your septic tank acting up? We can help. What about that leaky faucet? We can fix that too. From toilets to water heaters drain field installations and more, Sun Plumbing can help you. We can even assist you with bathroom remodels and new home construction needs. Call us today. We are as dependable as the sun.