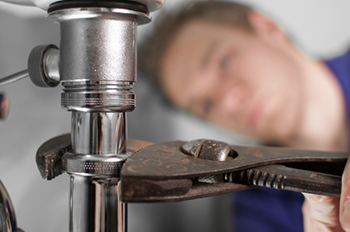 You just ate a fabulous meal and are cleaning up so that you can enjoy the rest of your evening and then it all goes awry. When you turn on the garbage disposal the unexpected happens. Water fills your sink and now you are left with a huge mess to clean up. What in the world did you do wrong? Can't you put anything down your disposal without concern?
Actually, you can't and this conundrum can easily be avoided to fend off a costly Melbourne FL plumbing bill. Many people mistake their garbage disposals as super strength catchalls. This is simply not the case. While they are designed to shred waste to a size that can be passed through your plumbing that doesn't meam anything goes. Here are some guidelines to ensure a properly functioning disposal that doesn't get clogged in the process.
Never ever put hot grease down your disposal. While you may be thinking, "Hey, it's liquid – no big deal", you would be sadly mistaken. Hot cooking grease is liquid in form while warm. In this state it will easily pass through your garbage disposal to your drain. However, it tends to harden after it cools which can wreak havoc by clogging your plumbing giving you a nasty headache in the process. It is best to dispose of hot grease into a heat safe container rather than putting it down your disposal or drain.
Many vegetables, peels, and cornhusks should not be put down a garbage disposal. Asparagus, celery, rhubarb, potato peels, and lettuce to name a few. These veggies are stringy and fibrous and can wrap themselves around your disposal's blades. It is best to dispose of these in the garbage or compost bin. Eggshells are another food item best left to the trash. Membranes contained on the inside of the shell can wrap themselves around the blades as well.
Pasta and rice are dinnertime staples that should not be put down your garbage disposal. Because these starchy foods expand in water, they can continue to absorb moisture every time you turn on your faucet causing clogs over time. It may seem obvious but be sure to never put seeds, pits, or bones down your garbage disposal. They can cause major issues and damage your disposal
Your left over morning coffee grinds should never go down the disposal. The grinds are fine enough to go down but can build up in the garbage disposal's trap. Just like those fibrous veggies, peels, rice, and pasta get rid of your grounds the old fashioned way: the trash can.
Sometimes small items such as a child's spoon, a bottle cap, or twist ties can fall into the disposal. It is always a good idea to check and see if you have any of these sneaky items have fallen in before you turn on the blades.
Garbage disposals provide convenience to the mundane task of cleaning up after meals. In order to protect them remember this rule of thumb: If you wouldn't eat it don't put it down the drain. Sun Plumbing in Melbourne, FL offers expert advice and plumbing professionals who can help you navigate the do's and don'ts of garbage disposal use and clean up after any mistakes you may encounter.